Sunday, September 12th, 2010
Since it is still quite warm here, my garden continues to bear. My bell peppers are really just starting to produce. Hopefully in a few weeks, I will be able to harvest them. I can already smell the tacos, burritos and veggie sandwiches.
Unless Lucie finds them first.
I am assuming that this is asparagus  seed pods. Funny, they look like snap beans.
I managed to capture a bee on my corn.
After a little nosing around, I found this zucchini. Another couple of days and this little guy will show up for dinner.
I can not pass up on including a photo of my sunflowers.
While taking photos, I ran across this spider web in Lolly's tree.
Another view.
I also noticed many tiny butterflies hovering around my marigolds. I tried to capture them but failed to get a good shot. I also noticed two adult butterflies dancing around Lolly's tree. You must look closely at this photo. The butterfly is in the upper left-hand corner. All the more reason to hopefully upgrade to a Nikon D70. Christmas is coming. (hint, hint)
I caught a little video of one of the butterflies. It is brief and the best I could do with the point and click.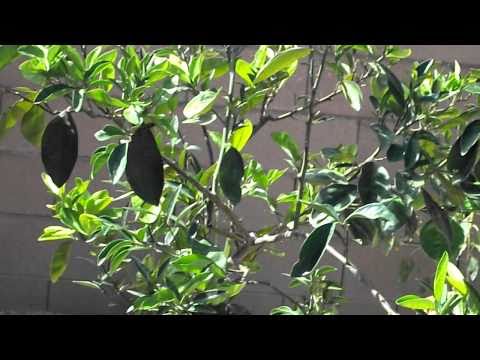 And of course, Lucie was intrigued over the butterfly adventure too.
In fact, she pretty much demolished a bush trying to catch the babies. So the saying, Dog and Butterfly?
Tags: fall garden, garden, Lucie